Here is a picture of the U.N. sign on the outside wall as we went into the schoolyard.
As we entered the school yard at the United Nations palestinian refugee school in Amman, it was hard to tell who was more excited…us or the students!  I think the teachers were!
A teacher at the school.  All of the students and all of the faculty were female.
Take special note of the picture in the middle.  These were drawn by 2nd graders.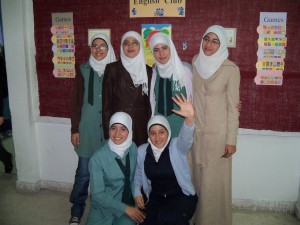 A few of my new friends in Jordan.  We had a great conversation about the similarities in our belief systems.  They initiated the conversation and I gladly participated.
 They loved having their picture taken.  The deal was this…after you took their picture, you let them look at the back of the camera so they could see their pictures!