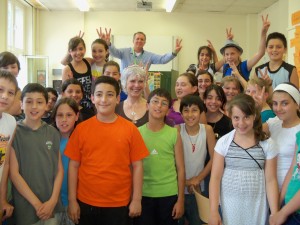 This is a fourth grade class in Duisburg Germany.  This particular school is 80% "immigrant background."  In this picture there are students with Turkish, Greek, Italian, Tunisian, and German parents.  All spoke German very well and they were starting to learn English.  Germany is big into language assimilation for it's immigrants.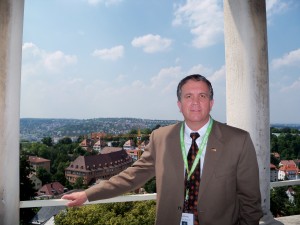 Ahhh…the view from a Castle in Stuttgart.
 My friend from the "Zug." (train)  He was a WWII veteran and had served in the German Army and was a POW with the Soviets for 30 days at the end of the war until he was given to the Americans.  He is convinced that is the only reason he survived.
 Our "teacher group" at the lake in the outskirts of Essen.
 In front of the Reichstag in Berlin.  Since the reunification, this building has once again served as the capital building for Germany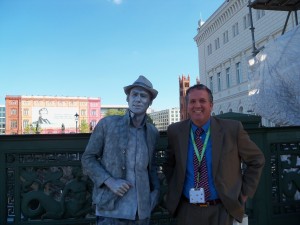 I only gave this guy one Euro (about $1.50) and he let me take my picture with him.  Very common in the streets of Germany.  You have to give them money or they do not let you take your picture with them.
I like bikes and flowers.  The perfect picture!