If you ever get lost, just look at the street signs.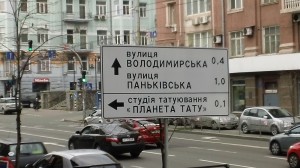 This guy could "rock it!"  DJ and RJ and Colby would love this guy!
Flowers for Mrs. Bundy.  I am such a romantic dude!
I found the German Embassy and they have a part of the Berlin Wall in the front.
Looks like Clayton and Desmond are in charge of this construction site.
I finished "Hunger games."  I read the English version
Robbie and Austin, this sign says "keep off the grass"  so the next time you go for a walk, stay on the sidewalk.